Project for Springboard
UX Design Course
I came up with this project idea as many of my friends have got married over the past 5 to 10 years and many more are in the process of planning there wedding. They though conversations with them as well as observation I noted the stress and struggle it was for them to get quotes and brochures and browse hundred of websites in order to find a venue, catering, a band, a DJ, car rentals, flowers, a wedding decorator and much more in order for them to plan the perfect wedding day.  They had to write many emails and make many calls in order to get quotes and plan site visits and it was a timely task.  
Therefore I discussed with them My Wedding Planner app idea and got a lot of positive feedback and encouragement to take on this project and have been told that investors will be interested in this project especially outside caterers, event managers and destination management companies.
I then took a UX  design course with Springboard and worked on the app in a step by step UX process
I went through all the following steps in the
UX process
in order to produce a prototype of a
Wedding Planner app
for
Maltese
and
Gozotan
users.
The product that I plan to create is an app with stylish branding and an app which can be used by anyone planning a wedding, including wedding planners and event management organisations.  The goals of the project is to create a product that will be successful in allowing a user to plan there wedding in an efficient and timely manner. It is an all in one product and  it will attract many wedding venues and wedding caterers as well as all vendors who work in the wedding industry.


The App that I am created is for anyone who is planning a wedding. I am created a survey with Google forms asked key questions as to what problems users face when planning a wedding, such as finding venues in a timely manner within their budget. 
The app or website will show a form where a user will enter there budget and number of guests. Based on the budget and number of people the calculator will show a search results that cover the venue cost and the catering costs based on the user's criteria. I used this survey to ensure that I collected results that helped me shape the wedding planner app.
The following questionnaire was submitted to friends and family on facebook that are currently planning to get married and would definitely benefit from this app. I also submitted it to wedding groups on facebook and got 94 responses. The following questions helped me learn about my key demographic as well as emphanise with my audience. 

I asked a number of questions in the interview and recorded the results as notes as used the feedback to ensure the app meet the user's requirements and expectations. 
These are the questions that I asked:

1.   What is the largest number of guests you invited to a party?
2.   What was your budget per person?
3.   What are 3 must-have elements for your party? Why?
4.   What are 3 things you don't want at your party? Why?
5.   How would you describe your dream party/wedding, what would it look like?6.   What services would you look for when planning a party?
7.   How would you describe the problem when searching for venues?
8.   What issues do you face when search for catering to meet your budget?
9.   Did you use any budget calculators/wedding planner websites? If yes, which websites?
10.   Did you use at planning tool that allowed you to see a total cost for venue and food?

Wedding Wendy
is the main user persona that I focused on in this project
Wedding Wendy - Primary User Persona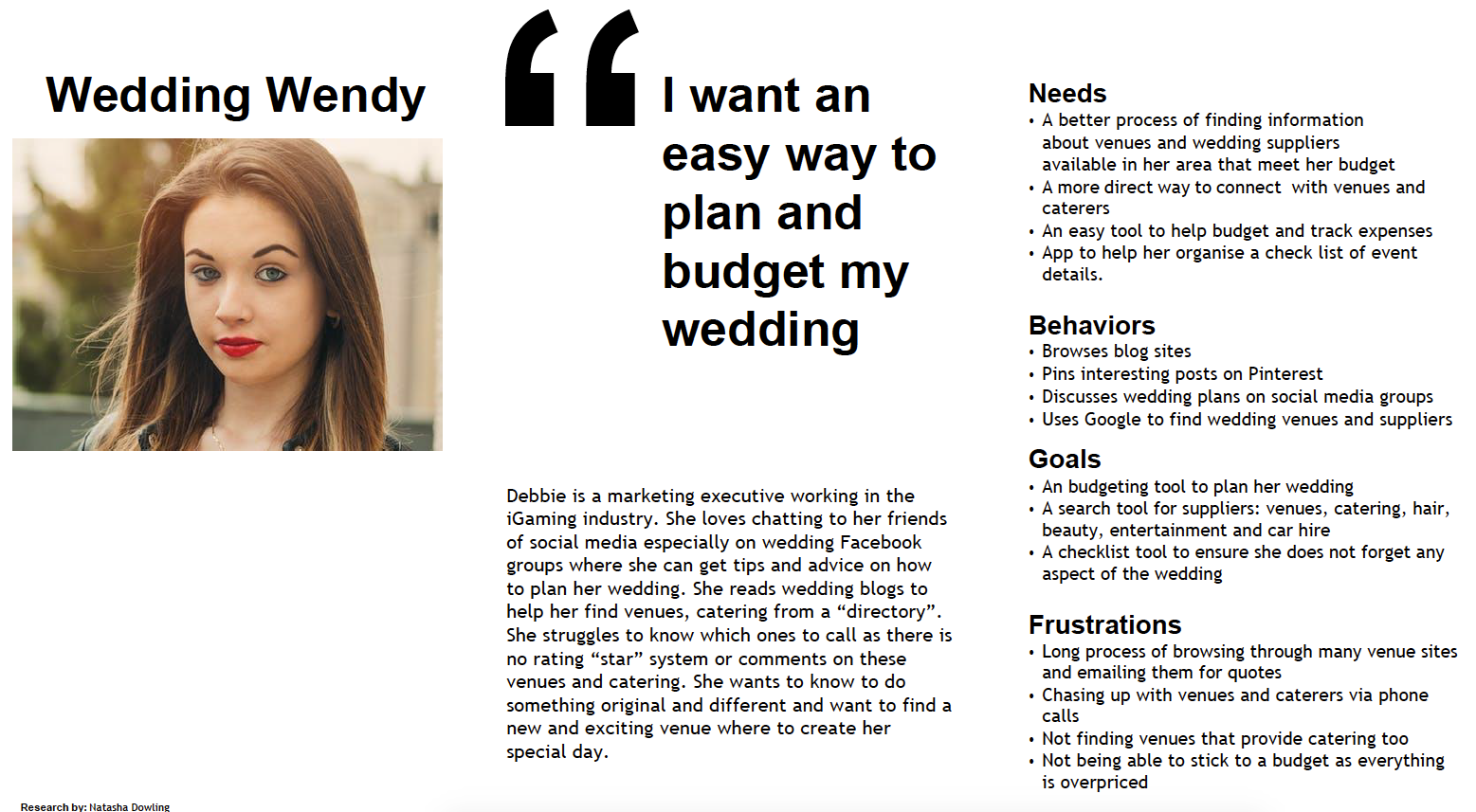 Planner Patricia - Secondary User Persona
Savvy Sally - Secondary User Persona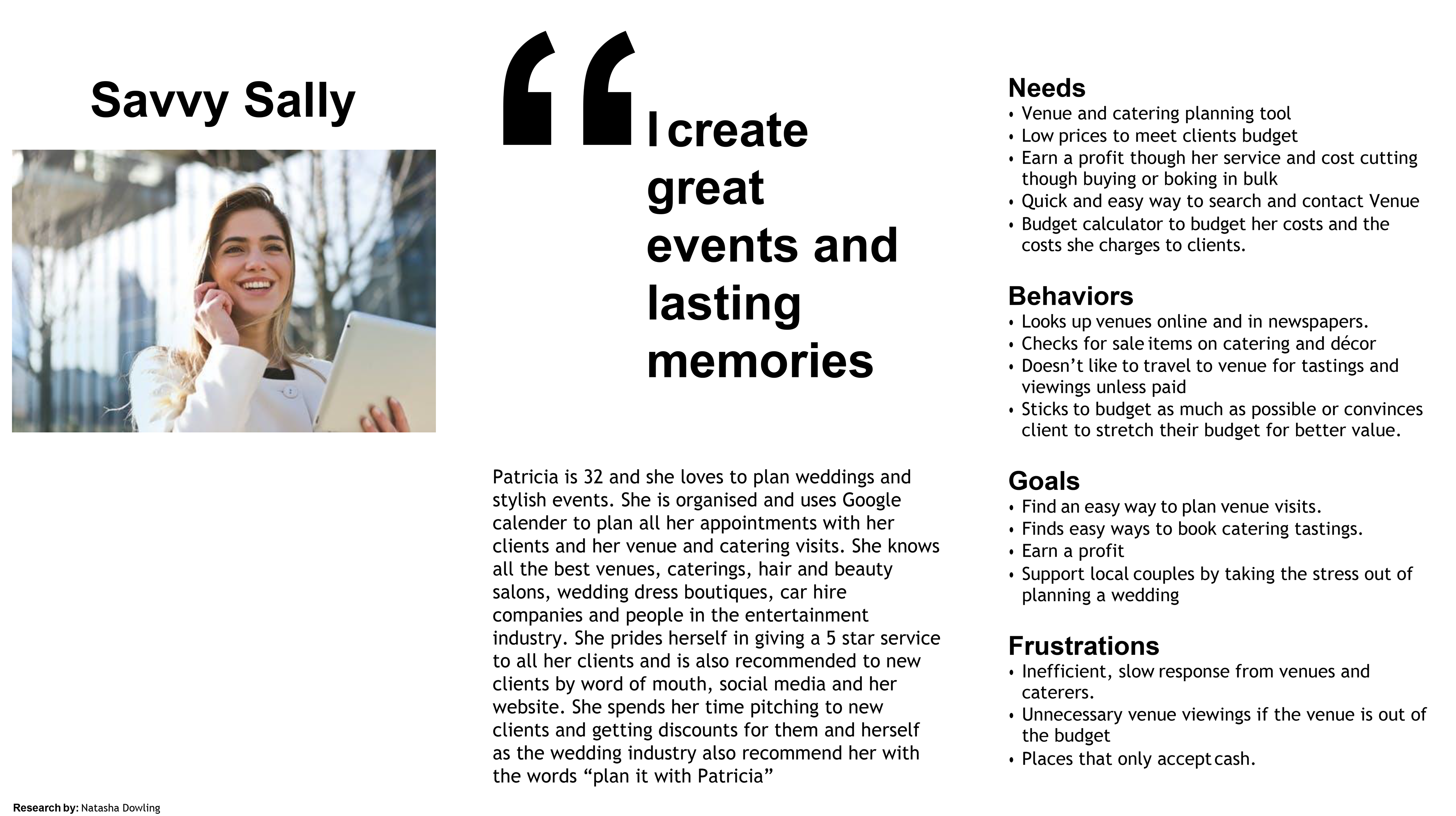 Empathy Map for Wedding Wendy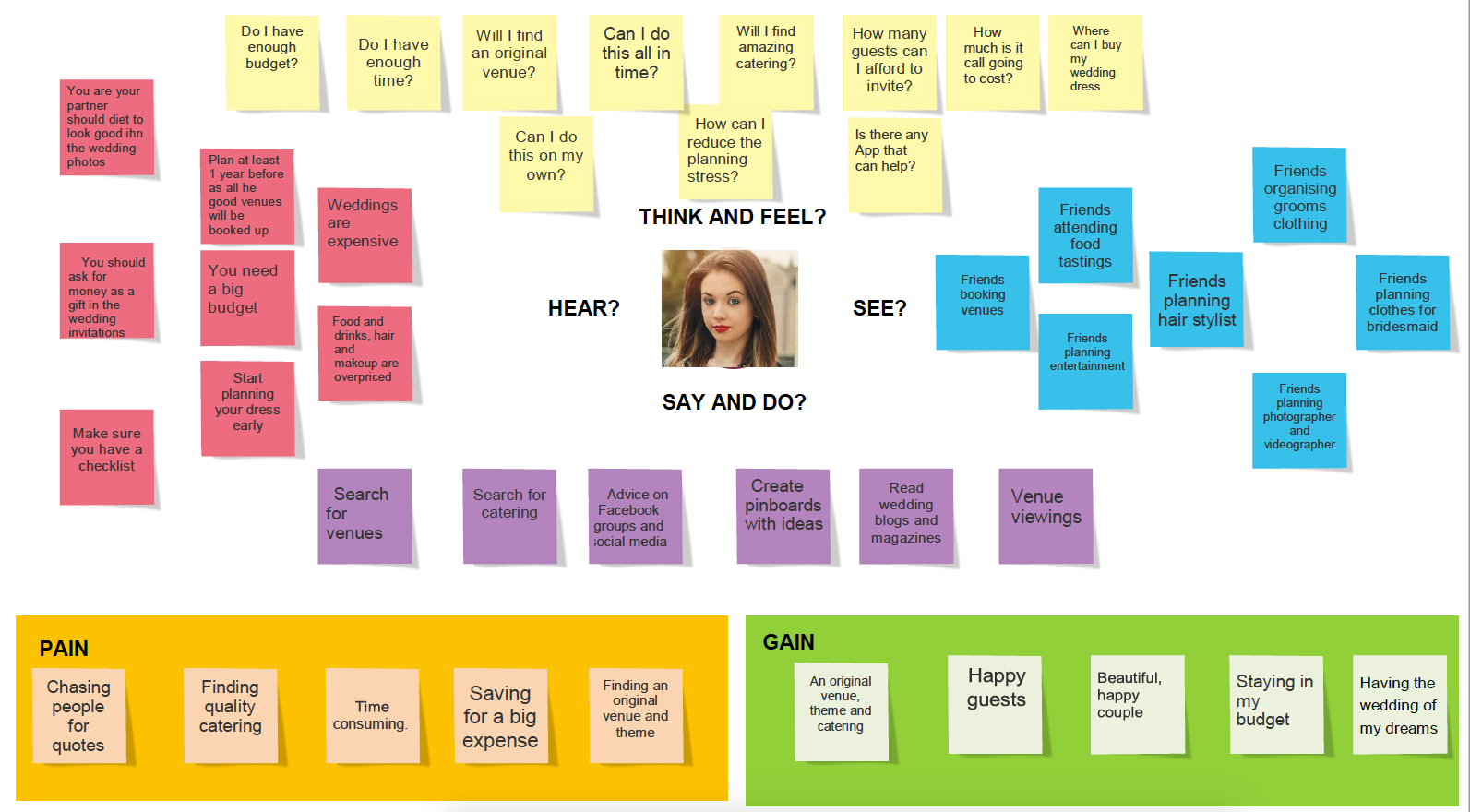 I conducted a card sorting workshop with a target audience of user personas that are similar to the user persona I created in my previous exercise (Wedding Wendy). This helped me design and evaluate the information architecture of the app prototype that I wanted to create. In the card sorting workshop, participants organised topics into categories that made sense to them and they labeled them accordingly.

To conduct the workshop I created  cards and wrote the name of the topics on them(that I then used to create the sitemap below). The topics I choose were based on user research, user interviews, competitive analysis, the target user persona (Wedding Wendy) and her empathy map.

The benefit of this workshop was that it helped me to understand the users' expectations and ensure I choose he write topics and that I did not l forget any topics.

Knowing my user persona group where similar to "Wedding Wendy" helped me:
- Build the sitemap of the app
- Decide what to put on the homepage
- Decide what navigation menu titles, categories and page titles to use based on the tone of voice that emerged in the card sorting workshop
The workshop process involved participants  being are asked to sort topics from content categories that I choose based on my user research. I wanted to learn how users sort content items into each category.
The sitemap was created with the card sorting in mind. I tweaked it slightly to improve the information architecture.

The idea is to create a wedding budget and planning app or responsive website that will help a user such as a bride or groom get quotes within their budget with ease. It will have will have a content management system that will hold all vendors information including wedding packages and the search results will provide venue, catering, bands, DJs and other wedding vendors in Malta and Gozo, based on the budget and number of people attending the wedding.
The UX Design and UI Design was done using Sketch. I created a logo with a turquoise colour as my primary colour.  Then I created the baby pink colour as my secondary colour and created a colour palette with a few shades of grey. 

Search for package, 
view details and send enquiry
The user journey displays how a user can search for a wedding package, view and filter the search results and make an enquiry (e.g. get a quote) from the package owner. I have explained each screen in more detail here:


1.
Wedding Planner
(home screen)
A user (e.g. Wedding Wendy) can search for a wedding package that is within their budget, then they can choose a location (Malta or Gozo or both) and they can enter the number of guests. Based on these search criteria the app will display a list of packages within the user's budget. 
2. Search Results 

The user can then filter the search results based on venues that are outside or inside and view all venues will be set as default. The packages will be ordered by the top search results being the ones that most match the search criteria and any featured (sponsored packages) package would be displayed at the top of the page. The user can order the search results by "Top Rated" (most recommendations),"Cheapest to Highest" and "A-Z"


A user can then filter the search results based on the fields in the home screen as well as venue type wedding date, seating capacity, standing capacity, venue extras, catering and other services and facilities that the package may include.
4
. Package Details
From the Package search results screen a user can view the Package Details including:
- Photos (the user can tap on the left and right arrows to view the images as a carousel within the screen or tap on the images icon to view the images in full screen)
- Number of Recommendations
- Download a brochure
- Contact Details
- Downloadable food and drink menus
- Package offer details (Gold, Silver and Bronze packages in a rotating carousel) - and click on a "More" link in order to view the extras
- Services and Facilities
and the user can tap the "Call Vendor" button to call the package manager
and a user can Send an Enquiry to the Package Manager via the "Send Enquiry" buttons that opens an enquiry form within the app


A user will enter there contact details including what they require from the package owner e.g. request a quote, request a viewing, request available for the couples ideal wedding date or request more information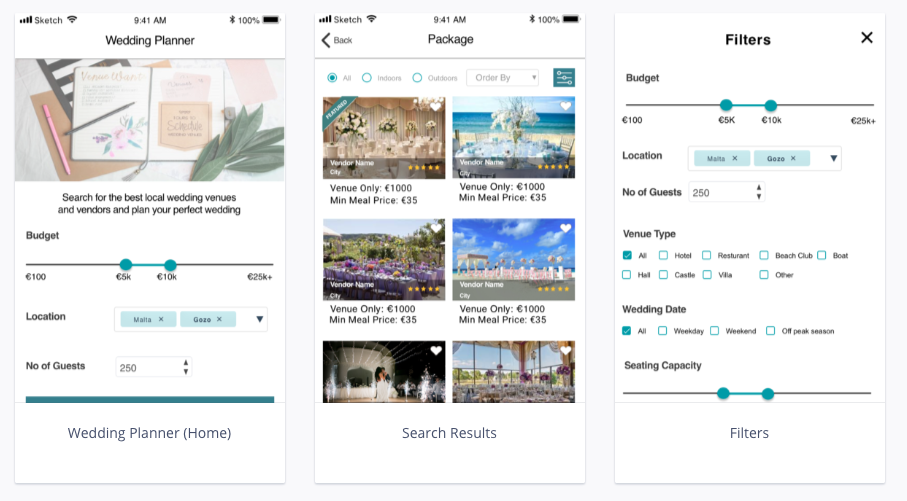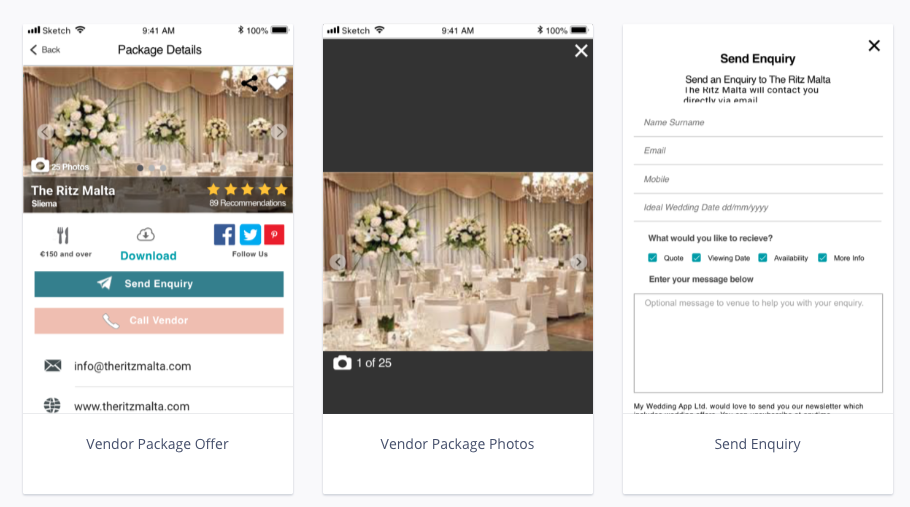 Sign Up and Shortlist User Journey
If I a user would like to shortlist a package they must Sign Up or Log in. A user can shortlist an item by clicking on the heart icon within the package search results screen or within in the Package Details screen. 
1. Log In / Sign Up
(overlay screen)
This screen appears in full screen and a user can make a choice to Log In if they have already created an account or to Sign Up to the app if they have not. The Sign Up button will open the Sign Up form
2. Sign Up
(Registration form)
The user must enter all the form fields in order to Sign Up for an account and then when they tap on the "Sign Up" button a user account will be created and the user will automatically. 
3. Package Search Results and Package Details (logged in screen): save a package to shortlist
When a user is logged they are now able to short list any packages and by tapping on the heart in the search results or Package details screen. The heart colour will change from white to pink and any shortlisted packages can then be found in the Shortlist page.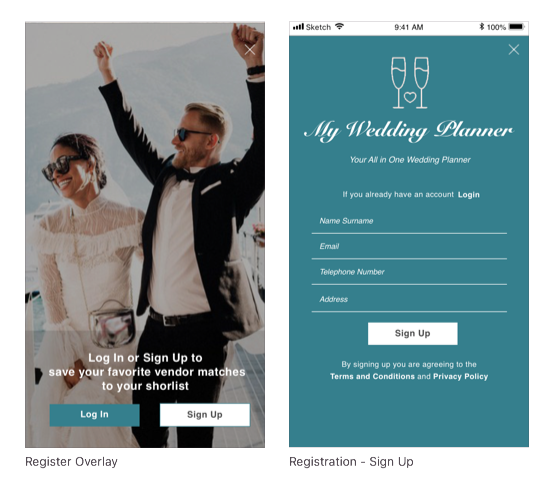 Loading Screen, More (menu) and Directory
The More icon in the footer, when tapped will show a menu where the user can access other pages such as the terms and conditions and privacy policy. They can also access a Help section which will contain information about using the app as well as have FAQs. There will also be a blog section where daily blog posts will be posted with useful articles as well as featured wedding venues and weddings. The user can also manage there account from here including logging in and logging out and entering there contact and marketing preferences. I have not currently created these screens as the prototype I have created only includes the main screens that are needed as a proof of concept for a minimum viable product (MVP).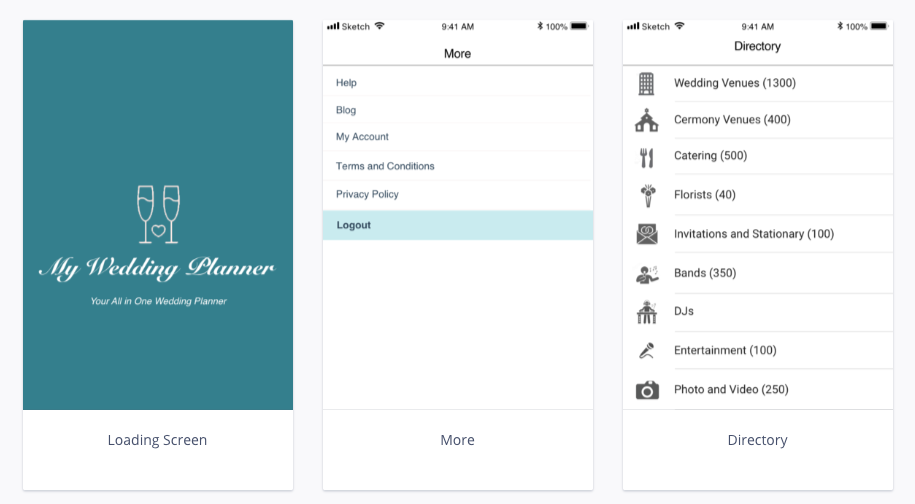 Wireframes Feedback Questionnaire
1. Do you understand what it does?
2. How does it measure up to their expectations?
3. What features are missing?
4. Does anything seem out of place or unnecessary?
5. How do you feel when looking at the prototype screens?
6. If users had a magic wand, what would they change about the product?
7. How likely or unlikely would they be to use this product once it's finished?
8. Do  you  think the product's design matches its purpose?
9. What's the first thing you would want to do on this product? Can you do it?
10. When you explore the product, do you become confused at any point?
11.   Does anything distract you or get in their way?
12. Are there any features that you would completely ignore?
13. Does the information architecture and navigation and content wording and layout make sense? (Can you find what you're looking for?)
14.   Do your feel like this product was designed for an event planner, for an individual or would both use it?
15. What, if anything, would make you want to use this product frequently?
16. How likely or unlikely would they be to recommend the finished product to a friend?
17. How would they describe this product using their own words?
18. What changes and additions/subtractions would you like to make the product easier to understand and use?
Step 5: Production - Prototype

I created a wireframes using the
Sketch
and then produced a 
prototype
 using 
Invision.
Step 6: Beta Launch - Prototype
I evaluated it though my Springboard mentor and though another user feedback questionnaire before launching it to the public.
I asked my target user personas the following questions and the feedback was very positive and I was satisfied that the prototype for a minimum viable product exceeded their expectations!
* Search for vendor within my budget
* Change filters to meet my specific vendor needs
* View vendor package details
* Send enquiry to vendor
* View vendor photos
* Register in order to login
* Shortlist a vendor
* View Shortlist
* View Directory
* View Menu
* Join Newsletter
Summary:
Overall the testing went really well with users able to accomplish the given tasks without issues. There was some confusion caused by the limited amount of scenarios available due to the prototype limitations. Four users tested the Mobile App and were all of the "Wedding Wendy" user persona.
Ranging in age from 25-42, male and female. They came from various backgrounds including jobs such as teacher, event organiser, manager and sales executive. The testers all live in Malta, with recent experience searching for venues and catering for there wedding for large events.  They all are medium to heavy Internet users. 

With this information, I will move forward with further iteration. Specifically, I will be focusing on:
• Footer icons - making it clear which page the user is on
• Simplify information given on the page
• More padding for information to be read easily
• Adding a carousel for the packages in order for the Vendor page not to be too long and avoid a lot of scrolling that was frustrating to some users
User Testing - Interview Script
I have been working on a wedding planning and budgeting mobile app for anyone planning a wedding. It is a convenience service where you can search for venues, caterers, music, entertainments, wedding decorators, hairdresser, beauty therapists, photographers, videographers and more in Malta and Gozo. The search results will be based on your budget and number of guests and location (Malta,Gozo or both) and the user can choose from a number of different packages (Gold,Silver,Bronze) which have different offers.
The goal of the project is to allow the user to perform the operations in the easiest manner possible and find the vendor and contact the vendor for a quote or viewing with the least amount of hassle. For this reason, I need to test the app to see if the current design supports this goal.I will be testing the design, not you, so there are no wrong or right answers. I will carefully guide you through the process by asking questions and asking you to perform specific tasks.
Please wait for direction before moving forward with any decisions, but please feel free to explore each page visually without clicking. While exploring each page please think out loud, so I gain a good understanding of how the site works, so I can improve it moving forward.
For this exercise, we are going to assume that you are a first-time user trying to find a wedding package with vendors that meet your budget and needs. 
1. This is the landing page for the app. Take a look and let me know what you see. Now that you have familiarized yourself with the page, what is it asking you to do?
2. Take a look at the page and let me know where you are in the process and anything else you see. Now, assuming you have filled in the form fields, please proceed to the next step.
3. Take a look at the page and let me know where you are in the process and anything else you may see. Now I want you to look at the Budget calculator form and proceed to the next step
4. Tell me anything you notice about this page. Please find how to filter the wedding packages.
5. Take a look at the filters page and let me know what you see. 
Now please find apply the filters
6. Take a look at the page and select the "The Ritz Malta" vendor
7. What is this page asking you to do? 
Please complete the process to Send an Enquiry to the Ritz Malta
8. Take a look at this page and let me know what you see. Now assume you have filled in all the required fields in the Send Enquiry form, proceed to the next step. 
9. What page are you on? 
Have a look at the vendor photos and close the photos page
10. Take a look at this page and let me know what you see. The necessary information has been filled out for you, but you will need to change 
your payment method. Please change your payment method.
11. Now select an icon to shortlist this venue
12. Then Sign Up in order to add a vendor to the shortlist

13. Now go the the shortlist and view the vendor that you have shortlisted
12. Now go to the directory page and describe what you see
13. Now go to the app menu and describe what you see
I launched the product here on my Dowling Designs portfolio and I got very positive feedback for all those who I recruited for user feedback,interviews and user testing on this project.

Click
here
 to load the prototype of
My Wedding Planner App.
From a profitability point of view the app will make a profit on a commision basis. The vendors will sign up at a fee and then whenever an enquiry is sent though the app there will be a PPC (pay per click fee)

Vendors would pay extra to appear at the top of the search results as "Featured" packages. They could also advertise in the weekly newsletters as well as posting blog posts at a cost. 
The prototype is a proof of concept and of course more screens and user journeys would have to be created in order for the app to be developed and brought to the market.